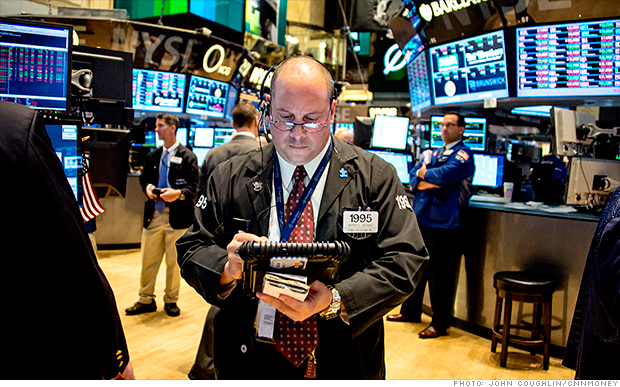 U.S. stocks closed higher Thursday.
LONDON (CNNMoney)
Alibaba's market debut is fast approaching and Scotland has just voted to remain in the United Kingdom.
Here are the five things you need to know before the opening bell rings in New York:
1. Alibaba IPO: Investors are eagerly awaiting Alibaba's debut on the New York Stock Exchange under the ticker "BABA."
The Chinese e-commerce giant, founded by Jack Ma, has made history with the largest U.S.-listed initial public offering of all time.
Shares were priced Thursday at $68, raising $21.8 billion and valuing the company at $168 billion. That's more than double eBay's (EBAY, Tech30) $64 billion market value and even tops the market capitalization of 20-year-old Amazon (AMZN, Tech30).
Friday will mark the first time individual investors can buy a stake in the company.
However, many investors are expressing caution about Alibaba.
"If the company doesn't live up to the hype then it is very likely that [market] enthusiasm will turn sour," said Chris Beauchamp, a market analyst at IG. "It needs to show real sales growth not just in China, but the U.S. as well."
2. Scotland is staying: Scotland has voted to remain in the United Kingdom after a polarizing referendum.
The pound spiked versus the U.S. dollar overnight as investors expressed relief that voting trends showed the country would stick together after a tough challenge from pro-independence campaigners. The pound was also strong against the euro.
Some Scottish investors had been buying gold in advance of the referendum as they worried the country would leave and Scotland would be forced to adopt a new currency. Gold prices were edging lower Friday.
Related: Fear & Greed Index
3. More record highs?: U.S. stock futures were all rising before the open -- pointing to new record highs for both the Dow Jones Industrial Average and the S&P 500. The Dow Jones Industrial Average and the S&P 500 rose nearly 0.7% Thursday to close at record levels. The Nasdaq moved 0.5% higher.
Related: CNNMoney's Tech30
4. Market movers: ConAgra (CAG) shares shot up by about 5% premarket after the company reported better-than-expected quarterly results.
On the other hand, shares of Oracle (ORCL, Tech30) dipped about 2% lower in extended trading after founder Larry Ellison announced he will be stepping down as CEO.
5. Global overview: Asian stock markets made steady gains across the board Friday.
The Nikkei in Japan was particularly strong as the yen weakened.
First Published: September 19, 2014: 2:43 AM ET